The Cash Back App (TCBA)
The Cash Back App is a fast and easy way for members and merchants to take control of their money and in the process improve the quality of their life. For members, TCBA offers cashback, discounts, loyalty rewards, special offers and prizes when they shop at participating merchants. For merchants, it provides a marketing, mobile payment and loyalty platform. With TCBA, customers can save money on everyday shopping, and businesses can gain more customers and income. 200 merchants have already using the TCBA app and these numbers are increasing on a daily basis.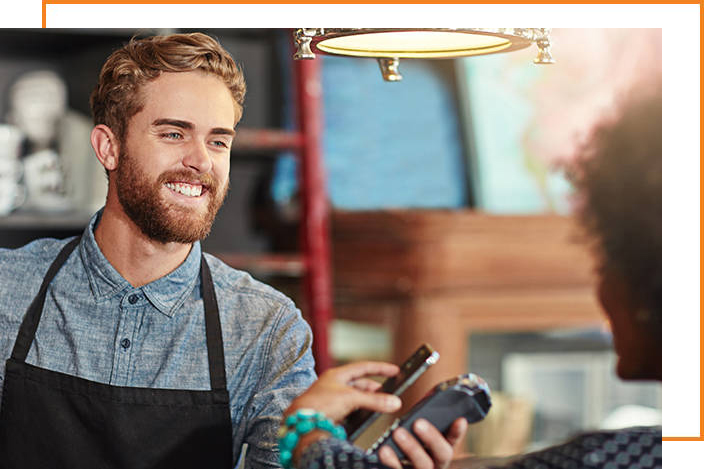 Shop. Save. Simple.
Did you shop yesterday? Will you shop today? And what about tomorrow and the next day? Everybody shops. It's a fact of life. So why not shop where you can get cashback and/or a discount on the necessities and the niceties of life? The Cash Back App rewards shoppers with cashback and businesses with loyal customers. Plus – recurring income for as long as you use the app! With The Cash Back App, everybody wins!
App Solution
The Cash Back App was founded in 2013 with the ambitious goal of building an industry-leading application and world-class team of developers capable of delivering thousands of dollars in savings to both customers and businesses alike all across Australia. After many years of research and development, the Cash Back App was officially launched in February 2018 with a wide variety of new features designed to reduce the cost of living for an average Australian and support local business communities as a whole.
Via the iOS and Android mobile app, TCBA offers cashback, discounts, loyalty rewards, special offers and prizes to its members when they shop with the participating merchants. The app is free to download and use for all consumers. With each transaction, a cashback is assigned to the user's mobile wallet. Users are required to register and provide bank account details to access the cash on their mobile wallet. For merchants, it provides a marketing, payment and loyalty platform. Merchants have access to rich data to enable targeted advertising and a loyal customer base at a low cost. The app builds a user base by rewarding membership sharing with a referral program and cashback.
Core features of the app include the Shopping tab, where users can find local businesses & order; the Wallet & banking platform, where users get access to the cashback & commission rewards they earn. The wallet allows the user to make purchases at TCBA merchants, pay a bill or send money to a friend – or even withdraw it as cash. The shopping cart & payment gateway in the app also allow the users to buy products sold directly in the app, such as gift cards & vouchers. In the shopping community section, the users can see their income stream & see their affiliate commission community grow. Finally, My Account section allows the user to manage their user profile & all relevant details about their account.
Our Partnership Role
App design and development.

Custom in-app payment integration.

Native iOS and Android development.

Ongoing integration and maintenance.

Security management and data control.

Solution Architect and Project Management.

Wallet and Banking API integration.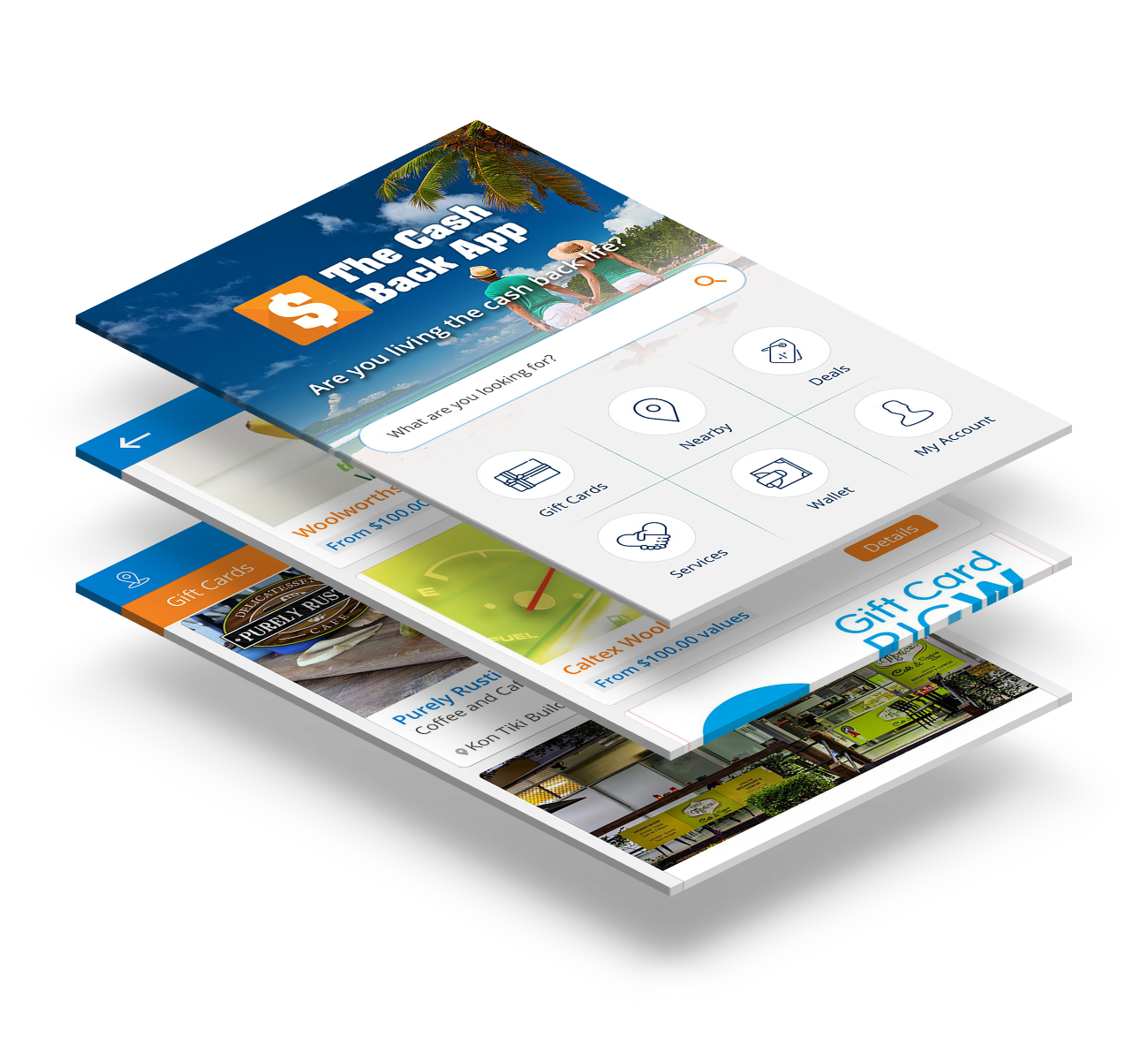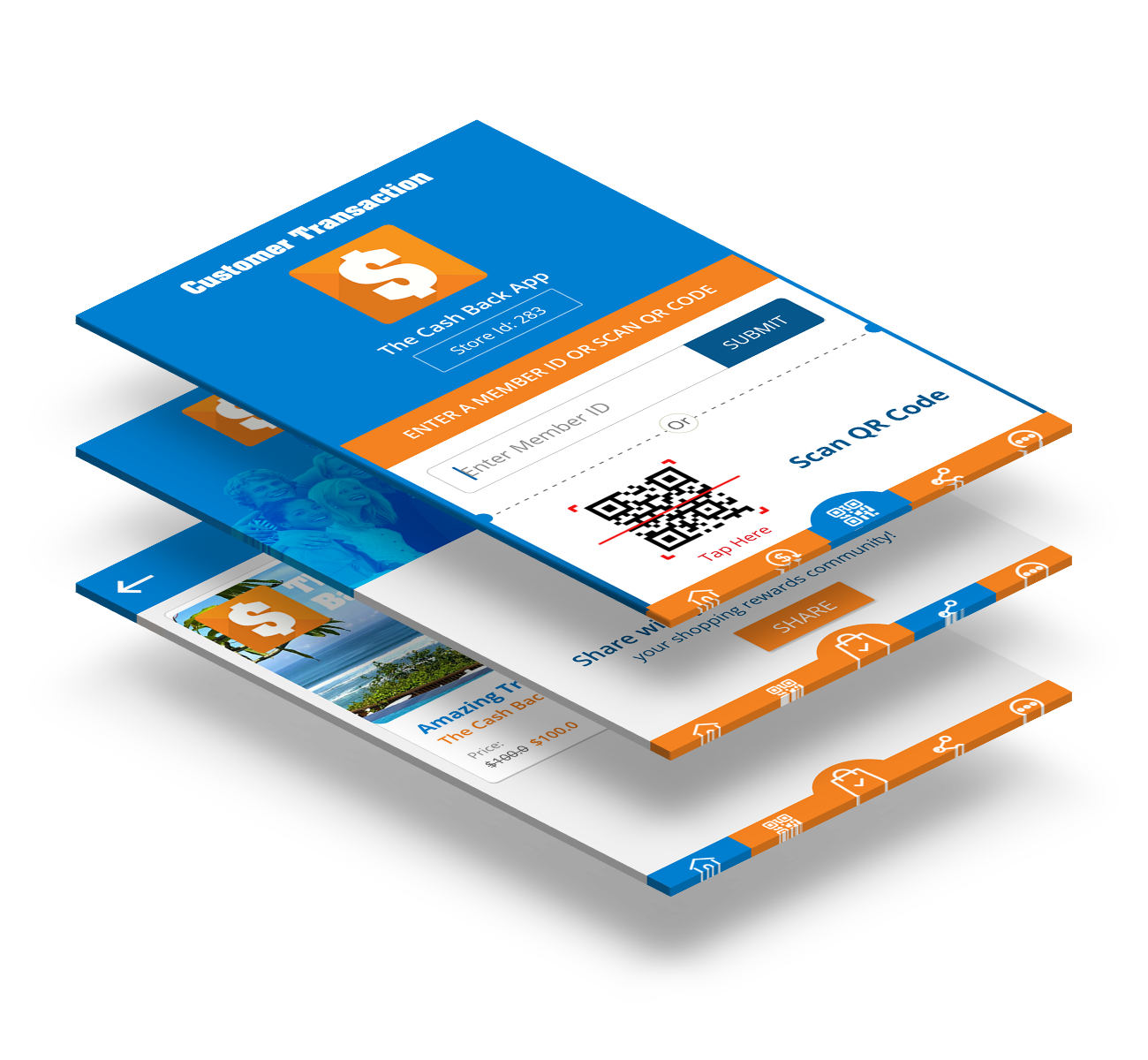 Core Design Processes Developed
Buy gift cards and shopping offers in-app.

Cashback and rewards calculator.

Charity view and selection.

List stores, gift cards and offers by proximity to the device.

Multi-platform sharing system that posts to SMS, email, Facebook, LinkedIn, Twitter and more.

Point of Sale transaction creation and completion.

Transaction management and display.

Staff and merchant transaction mode.

On-boarding video and interface design.
OUR TESTIMONIALS
Client Says
The Cash Back App

G S Bitlabs are fantastic! We've worked with Gagan & team for almost more than 1 year now. In addition to their core work with The Cash Back App, they've built over 5 apps for me and have been a crucial part of my development team. G S Bitlabs' project management and client relationship skills and experience are excellent. The team has a great and extensive skill set and has built simply too very complex apps for us in native iOS and Android platforms – as well as the APIs and systems to power those apps.

David Hennessy

CTO, The Cash Back App
Fobbu-Carwash Website

The new site and social media strategy have already drawn in new leads. The team is versatile while managing the project and readily adapt to new circumstances. Access to amazing problem-solving skills is just one of the many benefits of partnering with G S Bitlabs.

Gayatri Goda

Founder & CEO
HRQ-Recruting CRM

The team delivered an excellent system that smoothly and efficiently connects the different functionalities of the company, saving a great deal of time. They were communicative and transparent throughout their plans and were helpful at all times.

Frantisek Leginus

Director at HRQ Group
RunwayBuy-Fashion App

Although they are still developing new features, the app is functioning. Set to begin working on an associated website, their partner prefers working with G S Bitlabs over other developers. Their team is very flexible, making overseas collaboration very easy.

Yivan Gabut

Co-Founder & Head of IT
InGin - Taxi Booking App

We've had several benefits from our recent engagement with G S Bitlabs, helping us to achieve some key milestones. Their understanding and ability to work has been of immense value to us overall.

Aasmeet

Founder & CEO
Spota - Meet people you see

Working with Gagan and the team at G S Bitlabs has been an amazing choice, We currently have a full-time developer on our project which means our development output is rapid to grow with our business. Before working with Gagan our app was slow and underperforming, working with the team has taken this to a world-class product. Gagan is always a phone call away and has the same vision for Spota as we do. I would highly recommend G S Bitlabs.

Justin Borg

Founder & CEO Spota
ScrubUp-Medical App

I have worked with G S Bitlabs for several projects. They are proactive, result oriented, responsible, technically sound and always ready to put all their energy and time to get the job done. It's a pleasure to recommend them to anyone who is looking for a highly qualified team.

Nat Palakawong

ScrubUp App
Style By Molly Jay - Website

I have a colleague recommended G S Bitlabs to help me with building a website and I was very happy with the quality of the whole things start from their service to the outcome of the website itself so I decided to have their help created my second website.
Price is very reasonable compares to anywhere else.
G S Bitlabs team is very creative. They know exactly what I need and they delivered beyond my expectation. They helped me sort every big and small issue. I truly appreciate their great work for my business.

Molly Jinta

Style By Molly Jay
CONTACT US
Get Your Quote Today